PINSTRIPING &
COLOR WRAPS
COMMERCIAL BUSINESS WRAPS
PERFORATED WINDOW GRAPHICS
VINYL VEHICLES WRAPS
Southern Style Graphics offers full vehicle marketing consultations, design, and installation for all types of vehicles.
For a cost-savings approach, die-cut graphics is an effective option. A Partial Wrap is a viable, more comprehensive approach that works well depending on your budget and design needs. Full Wraps attract the most attention and can provide a clean or extremely creative design. Your target and marketing options are endless.
The paint job on your new sports car can help maintain it's value if you keep it in pristine condition. If you're looking to protect your new paint we offer unique color change options as well as clear vinyl options that will protect your it for years to come.
If you're trying to add some time-tested style to your vehicle then pinstriping might be in order. We can get creative and design something fun that would typically be reserved for an expensive paint job.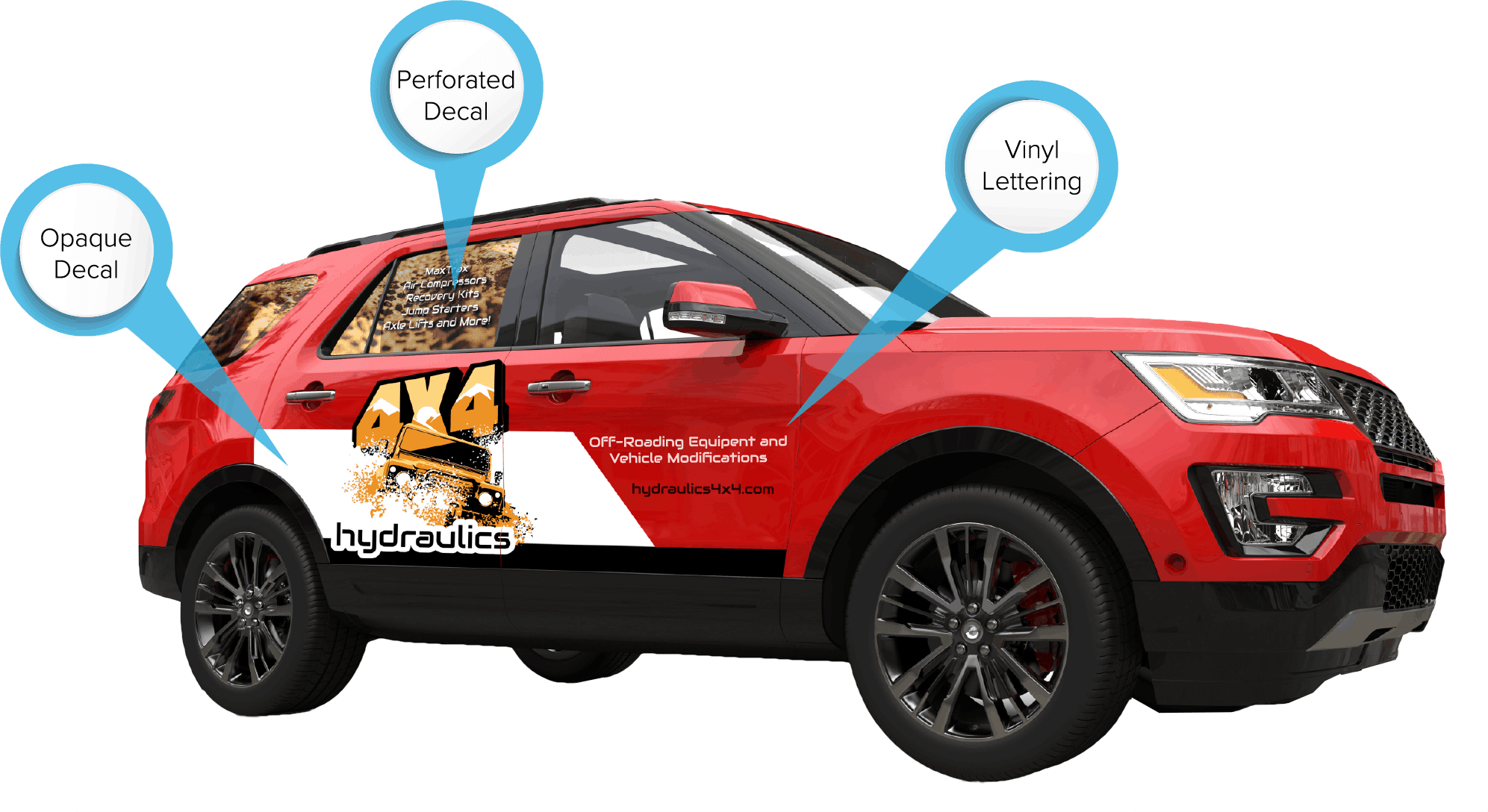 Advertising Investement
The most cost-effective advertising you can buy is advertising on the fleet you already own that is seen by thousands daily. Think of a full wrap as a moving billboard. Vinyl wraps can also be safely removed from the car when the lease expires or when the vinyl is due for replacement. A full wrap is also an amazing way to change the color of your vehicle without a costly paint job.
Full Wrap Pricing
The cost to wrap a vehicle varies depending on the wrap's size, shape, and how long it is intended to be in service. If you give us a call and tell us about your project, we can provide recommendations about the most cost-effective ways to complete your unique wrap without compromising your goals.
Expert Design & Installation
Need help on the design? Our design team can work with you to create an eye-catching design that will get noticed and communicate your message.
Wrapped vehicles get attention, and when done correctly, they are a powerful marketing tool.
Big Bang for Your Buck
A partial vinyl wrap design is a more cost-effective alternative to a full wrap, oftentimes giving the appearance of a full wrap. When designing a partial wrap we take into consideration the contour of the vehicle, the color of your paint, and your overall budget for the project. Partial wraps consist of 3/4, 1/2, and 1/4 wrap designs that can be combined with die-cut lettering to create an appealing overall design concept.
Partial Wrap Pricing
After discussing your project we can provide a free quote for the partial wrap design that fits your budget. This can be a great choice for larger vehicles where a full wrap may be cost-prohibitive.
Get Your Name Out There
If you don't need to fully brand your vehicle and are looking for the simplest solution to get your company information on your vehicle, then die-cut lettering and design may be the best option for you. We can cut any color vinyl into just about any shape you can imagine. Want your full-color logo cut to shape? We can do that too! Whether you need something for the top or back of your windshield or simple lettering on the side of your doors or back of your bumper, we've got you covered.
Die-Cut Pricing
Die-Cut lettering and design is our least expensive most cost-effective advertising option for your vehicle. Single color vinyl cut to shape will make the message on your vehicle stand out and last for years to come.
Pinstriping is a long-standing tradition that has typically been hand-painted on the vehicle. While it gives your sports car or luxury vehicle an edgy look, it is normally a permanent option remaining on the vehicle throughout its life. Well, now we offer a less permanent solution! With vinyl pinstriping, your design will last for years and can easily be removed and changed if you desire. From fancy thin line pinstriping to wide racing stripe designs we can create something custom for your vehicle.
SERVING LEE COUNTY FOR 15 YEARS
For questions or a FREE quote please complete this form.