PINSTRIPING &
COLOR WRAPS
COMMERCIAL BUSINESS WRAPS
PERFORATED WINDOW GRAPHICS
VINYL VEHICLES WRAPS
Southern Style Graphics offers full vehicle marketing consultations, design, and installation for all types of vehicles.
For a cost-savings approach, die-cut graphics is an effective option. A Partial Wrap is a viable, more comprehensive approach that works well depending on your budget and design needs. Full Wraps attract the most attention and can provide a clean or extremely creative design. Your target and marketing options are endless.
The paint job on your new sports car can help maintain it's value if you keep it in pristine condition. If you're looking to protect your new paint we offer unique color change options as well as clear vinyl options that will protect your it for years to come.
If you're trying to add some time-tested style to your vehicle then pinstriping might be in order. We can get creative and design something fun that would typically be reserved for an expensive paint job.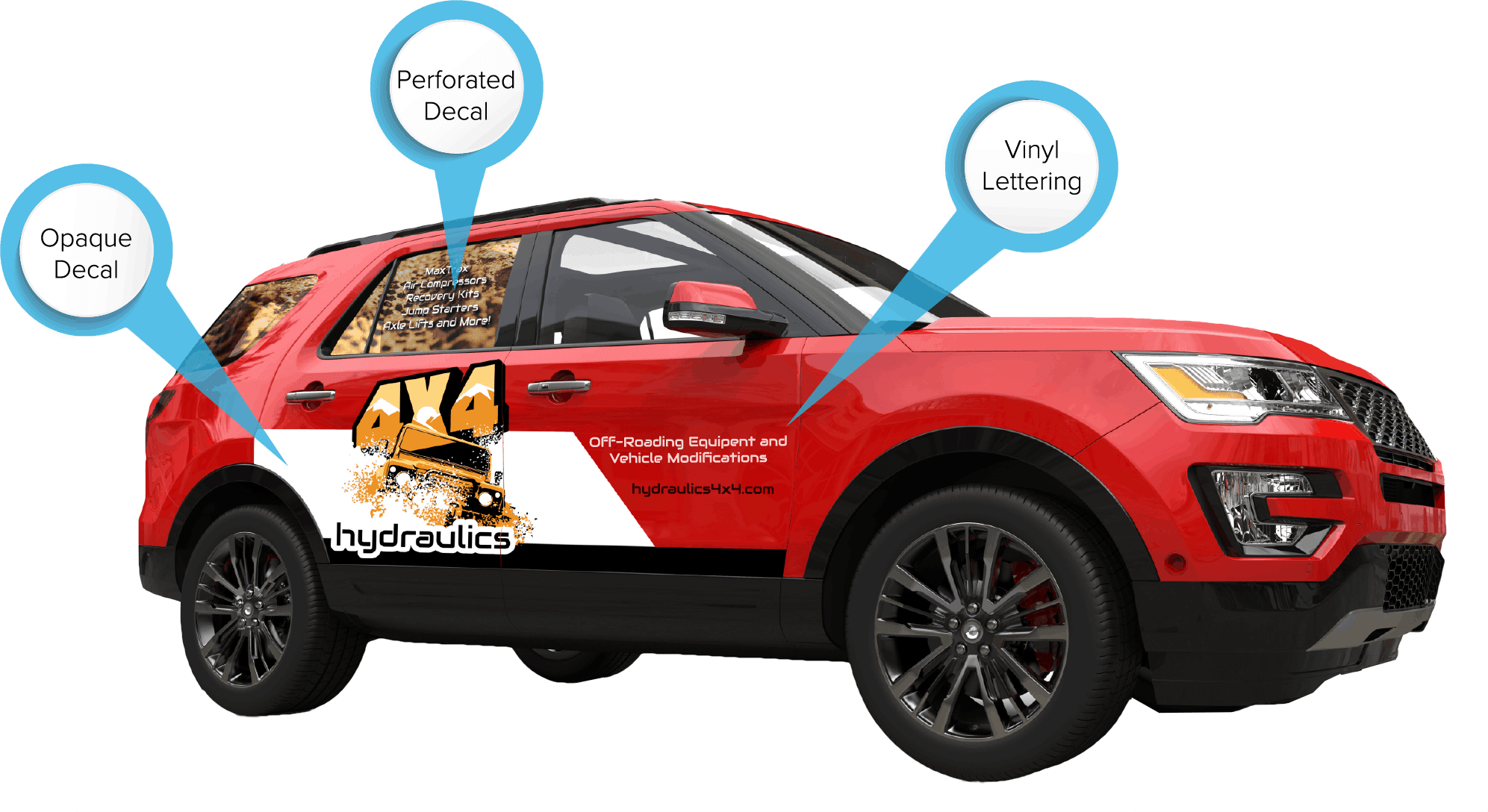 Advertising Investement
The most cost-effective advertising you can buy is advertising on the fleet you already own that is seen by thousands daily. Think of a full wrap as a moving billboard. Vinyl wraps can also be safely removed from the car when the lease expires or when the vinyl is due for replacement. A full wrap is also an amazing way to change the color of your vehicle without a costly paint job.
Full Wrap Pricing
The cost to wrap a vehicle varies depending on the wrap's size, shape, and how long it is intended to be in service. If you give us a call and tell us about your project, we can provide recommendations about the most cost-effective ways to complete your unique wrap without compromising your goals.
Expert Design & Installation
Need help on the design? Our design team can work with you to create an eye-catching design that will get noticed and communicate your message.
Wrapped vehicles get attention, and when done correctly, they are a powerful marketing tool.
Big Bang for Your Buck
A partial vinyl wrap design is a more cost-effective alternative to a full wrap, oftentimes giving the appearance of a full wrap. When designing a partial wrap we take into consideration the contour of the vehicle, the color of your paint, and your overall budget for the project. Partial wraps consist of 3/4, 1/2, and 1/4 wrap designs that can be combined with die-cut lettering to create an appealing overall design concept.
Partial Wrap Pricing
After discussing your project we can provide a free quote for the partial wrap design that fits your budget. This can be a great choice for larger vehicles where a full wrap may be cost-prohibitive.
Get Your Name Out There
If you don't need to fully brand your vehicle and are looking for the simplest solution to get your company information on your vehicle, then die-cut lettering and design may be the best option for you. We can cut any color vinyl into just about any shape you can imagine. Want your full-color logo cut to shape? We can do that too! Whether you need something for the top or back of your windshield or simple lettering on the side of your doors or back of your bumper, we've got you covered.
Die-Cut Pricing
Die-Cut lettering and design is our least expensive most cost-effective advertising option for your vehicle. Single color vinyl cut to shape will make the message on your vehicle stand out and last for years to come.
Pinstriping is a long-standing tradition that has typically been hand-painted on the vehicle. While it gives your sports car or luxury vehicle an edgy look, it is normally a permanent option remaining on the vehicle throughout its life. Well, now we offer a less permanent solution! With vinyl pinstriping, your design will last for years and can easily be removed and changed if you desire. From fancy thin line pinstriping to wide racing stripe designs we can create something custom for your vehicle.
SERVING LEE COUNTY SINCE 1999
Printed Full Wraps Start at:
Small Vans $2,200+
Med Vans $2,800+
Large Vans $3,000+
Extended Van $3,300+
Large SUVs, Vans $3,500+
Extra small coupe 2 door $1,800+
Small Vehicles 4-dr coupe $2,000+
Large Sedans 4-dr $2,500+
Small SUVs $2,900+
Pick-up compact $2,000
Pick-up Single Cab $2,800
Pick-up Double Cab $3,300
Pick-up – Utility Trucks $3,300+
Busses, Large Trailers, Box Trucks $5,000 +
Back Window View Thru Trucks $150 Hatchback $200 Cars $300
Roof Wrap:
Cars $250-$300
SUV's $450-$750
Vans $450-$550
Die-Cut & Window Coverage:
Spot Graphics 1-2 Colors: $100 – $800+
Window Banner: $50 – $150
Back Window (Perforated): $150+
Wrap Removal $85 an hour
Wrap estimate prices are based on material, layout, design, coverage and vehicle type. (set up fee or design may vary from $85 and hour) Plus tax. When providing artwork it must be at least 300dpi and or Vector artwork. To learn more about pricing and to see what best fits your budget, please contact us.
WHAT'S INVOLVED WITH A VEHICLE WRAP?
Our high quality wraps are printed and laminated on:
3M, Avery, or Orafol 3-5 year outdoor durability (hoods 1-2 years) depending on heat and how you take care of it.
YOUR VEHICLE WRAP PROJECT CAN TAKE 1-2 WEEKS
There are 5 main steps to creating a vehicle wrap: design, proofing, printing, and installing.
Start by providing the year, make, and model of your vehicle. 
1. Artwork, supplying your own artwork in VECTOR FORMAT files .ai or .eps and High Resolution 300 dpi .jpegs or .tiff
Remaking logos and acquiring high resolution images will result higher costs for the design.
2. Design- This is the longest part of the vehicle wrap process, it can take anywhere from 5 to 40 hours, depending on the complexity of the design and style of vehicle. Certain graphics may have to be specially cut and contoured to fit parts of the vehicle, which can take longer.
3. Proofing- Once the design is ready, the we create an electronic or printed proof of the wrap. It's important to carefully examine the proof for any mistakes you find and immediately note any changes you want made to the final wrap before printing. Any changes you have after the wrap goes into final production can delay turnaround and add significantly to your costs.
4. Printing- Vehicle wraps are printed in multiple panels and carefully pieced together during installation. After printing the wrap, ink needs 4-6 hours to "gas out" this prevents the vinyl from bubbling or winkling during installation.
5. Installing- Your vehicle needs to be thoroughly clean so that the wrap will adhere properly. You would need to wash your vehicle before you leave it with us. Taking it through a high pressure car wash that uses powerful detergents should clean off most grime and debris.
Installers use a heat gun to stretch and reposition the vinyl and a squeegee to eliminate imperfections. It's important to note that installers rely on sharp razors to manipulate the vinyl and remove excess material around door handles and crevices. Even with the expert installers, there's some potential for minor nicks and scratches to the surface.
Eye-Opening Mobile Advertising Facts
Consider these statistics compiled by the Outdoor Advertising Association of America:
More than 95% of Americans are reached by media targeting vehicle drivers and passengers.

One vehicle wrap can generate between 30,000 – 70,000 impressions daily.

Fleet vehicle advertising boosts name recognition 15 times greater than any other form of advertising.

30% of mobile outdoor viewers indicate they would base a buying decision on the ad they see.
The Best Return on Your Advertising Investment
The benefits of a vehicle wrap hit home with stunning clarity when you compare its cost to the Cost Per Thousand Impressions (CPM) of other forms of advertising (Statistics courtesy of the Outdoor Advertising Association of America):
A 30-second prime-time spot in the top 100 television markets cost $17.78 per CPM.

A 60-second drive-time ad in the top 100 radio markets cost $8.61 per CPM.

A one-third b/w page ad in the top 100 newspaper markets cost $22.95 per CPM.

A four-color one-page ad in 23 top magazine publications cost $9.35 per CPM.

The average for all forms of billboard ads cost $2.18 per CPM.

Vehicle wraps cost is roughly $.77 per CPM.
For questions or a FREE quote please complete this form.