Southern Style offers a large selection of signs and banners include A-frame signs, pop-up banners, spinner signs, vinyl decals, magnets, and more. We are happy to consult with our customers to help them make the best choice with their banner or sign selection and we can even help with the design.
Our signs and banners are available in a variety of substrates and in just about any size or shape you might need. Choosing the right medium for your advertising efforts is crucial to your success so we are here to provide you with valuable information regarding each type of signage we offer. Depending upon whether your advertising inside or outside, traveling, looking for something short term or something that will last a lifetime, we understand that selecting the right materials to meet your expectations is important. 
Regardless of which type of signage you choose, you can be assured it will be printed with the brightest, highest quality, longest lasting inks available.
We understand your marketing concept may not be fully visualized yet. That's why we offer complete design services that will help bring your vision to life. Whether you just need some simple lettering or your looking for a full-blown photographic advertisement with an eye-popping font, we can make sure you are happy with the design before we ever go to print and ensure that the design is catered to the materials and medium you have selected.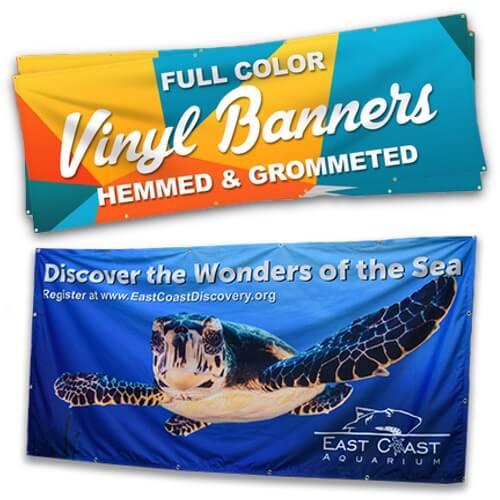 Banners are a great way to capture attention, whether celebrating events, promoting sales, or adding a promotional pop to a tradeshow booth. Full color makes them easy to personalize with product photos, company logos, or marketing messages, while different styles allow your customer to choose the banner that best fits where they will use it.
We offer both vinyl and polyester banners in whatever size you need. They are available with or without grommet holes so you can easily hang them. We can also hem the edges for a longer-lasting more professional look.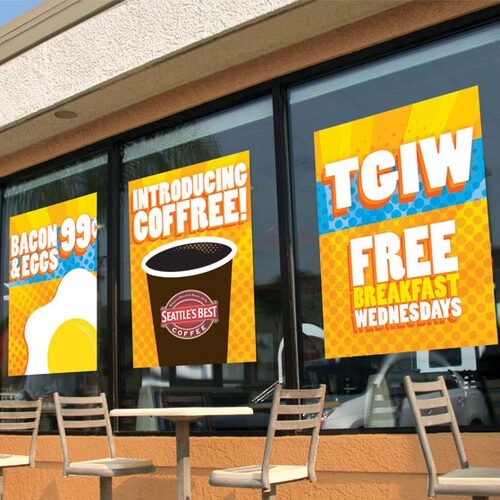 We offer a durable, outdoor-friendly material that is perfect for mounting on a range of substrates and surfaces including glass, metal, and even painted drywall. This product is used for point of purchase displays, trade show displays, hard-to-adhere substrates for permanent wall graphics.
We can also provide a static-cling removable vinyl that you can pull down and replace at your discretion. This is a great option for seasonal graphics or limited promotional sales events.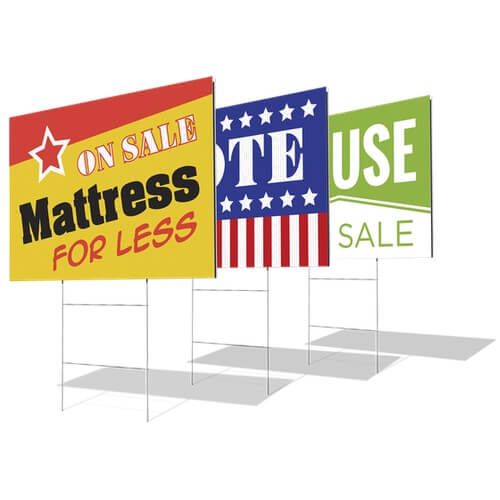 Promote your business or political campaign with custom printed corrugated yard signs! Inexpensive and highly visible, corrugated signage is one of the best, most effective form of advertising for your marketing dollar. Lawn signs are an inexpensive way to promote special events, political candidates, businesses, or spread the message about your special cause. They are also a great way to quickly advertise to a lot of people in exactly the area you are trying to target. Corrugated yard signs are available in 1 or 2-sided, single color, multi-color, or full-color print and can be used indoors or outdoors. We can also provide various sized H stakes or full frames.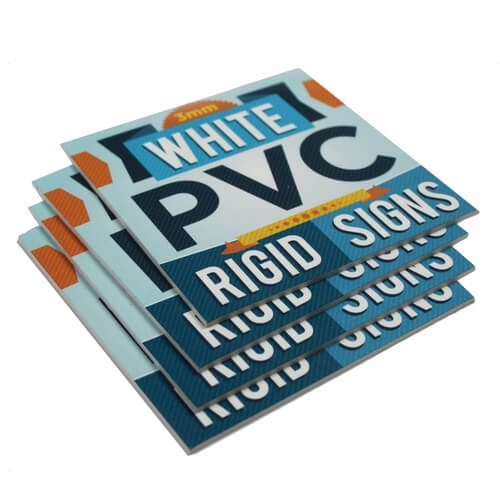 Durable, professional, and vibrant, solid-core PVC signs are the ultimate high-quality solution for your long-term signage needs. These signs are lightweight, waterproof, easy to install, and can be customized extensively.
With their size and shape customizability, PVC signs can be installed nearly anywhere. They can be found hanging, mounted to walls, framed, inserted in a stand, and more. Thin PVC signs make great, affordable indoor solutions that will last decades.
We offer custom options and high-quality graphics with bold, long-lasting colors. Our signs are available in a variety of sizes and thicknesses that can accommodate any marketing need.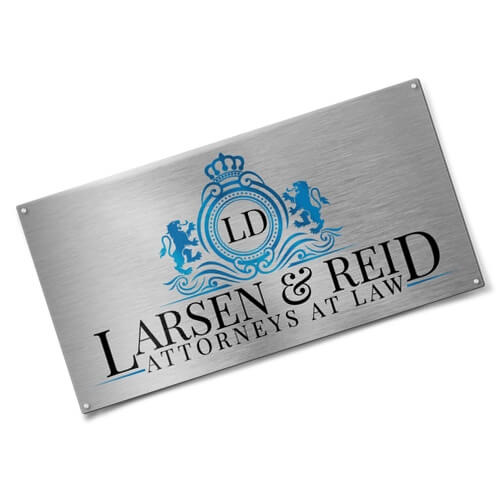 Aluminum signs are the gold standard in permanent outdoor signage. Oversized building logos, hanging signs, streetside signage, wall-mounted signs, framed signs, and more can all be made from this sturdy, long-lasting material.
Consisting of two sheets of finished aluminum sandwiching a recycled thermoplastic core, these signs solve many weaknesses encountered by other materials. Aluminum exteriors allow for full-color digital printing that has tremendous staying power. The aluminum's hardness makes the material weatherproof and resistant to warping, fading, or mild impacts. A thermoplastic core prevents corrosion and resists moisture while reducing weight and cost.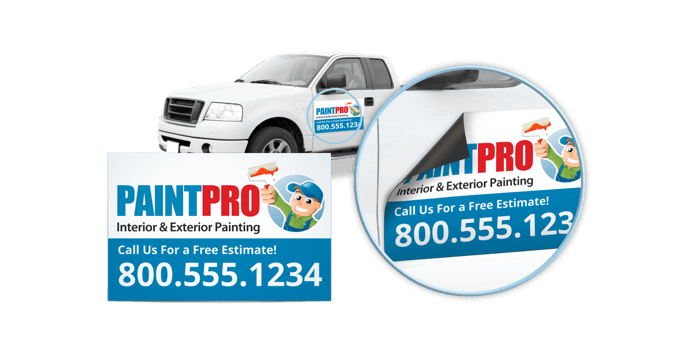 Magnets designed for vehicles are a simple and effective way to get your business noticed on the go. Car magnets can be used to replace vinyl decals and other vehicle signage with something that can be removed or placed instantly. Turn every vehicle in your fleet into a moving billboard that gets thousands of exposures with every trip.
We print only the highest quality car magnet products on a heavy-duty 30 mil magnet material made for use on vehicles. Printed using UV inks, our magnet signs are made to last. Car magnets are great for fleet branding, delivery companies, self-owned businesses, realtors, and even special events.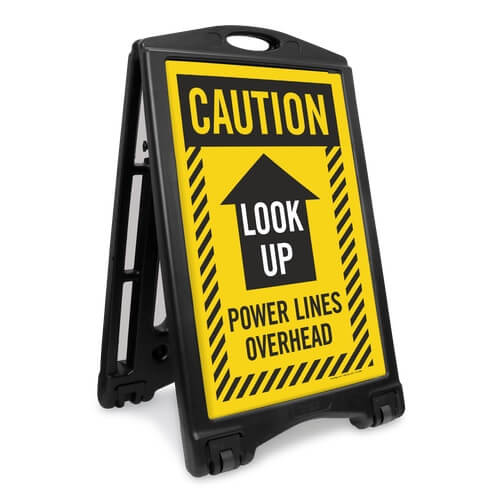 A-frame signs — sometimes called sandwich board signs, sidewalk signs, curb signs, or standing signs — are an amazing, versatile solution that can enhance nearly any professional communication goal. Bright, colorful graphic A-frame signs can spread marketing messages in an intimate "word on the street" manner. Other applications for A-frame signs include instructive signage, directional signage, directing customers, and passers-by to a business or event.
We offer a variety of A-frame sign options and we can help you decide which one will serve your marketing purposes best.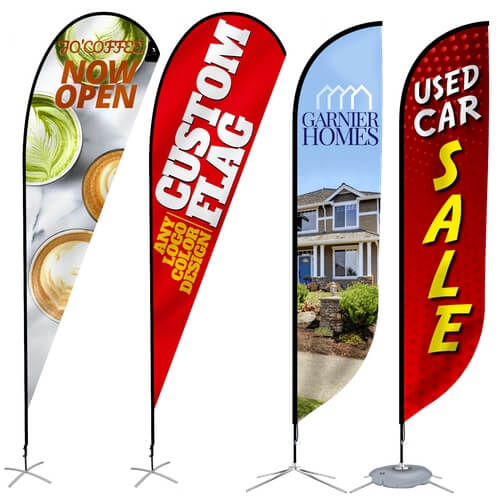 Lightweight, eye-catching, and portable, flags, or feather banners as they are often called, are the perfect solution for demanding attention on your campaign and the important message you are trying to convey for an environment in need of visual pizazz. Also known as teardrop banners, these banners have exploded in popularity recently due to their adaptability dynamic nature.
Stand-alone bases or in-ground mounting systems allow for a sturdy and fast installation or rearrangement and allow them to be used indoors or outdoors. A durable but flexible pole design can be reused with new feather banners to update or alter your message as needed with minimal investment. Each feather banner is printed on durable, tear-resistant nylon using a high-quality screen printing process.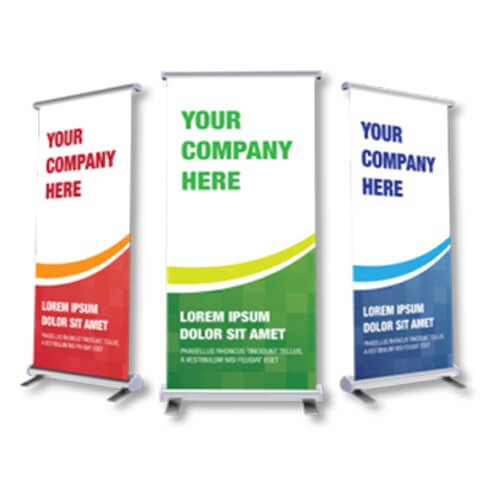 Up in a second and then gone in a flash, pop-up retractable banners make the ideal solution for on-the-go campaigns or dynamic use cases. Each sign is constructed to be rugged, yet portable, with a state-of-the-art lightweight build design that can even come with its own carrying case! Retractable signs are available in vinyl or the popular polyester.
Deploy your sign anywhere you need quickly without having to compromise valuable floor space. These are perfect for trade shows as they are designed for travel, delivering eye-popping, high-quality graphics, and a clear marketing message no matter where you are.
For questions or a FREE quote please complete this form.