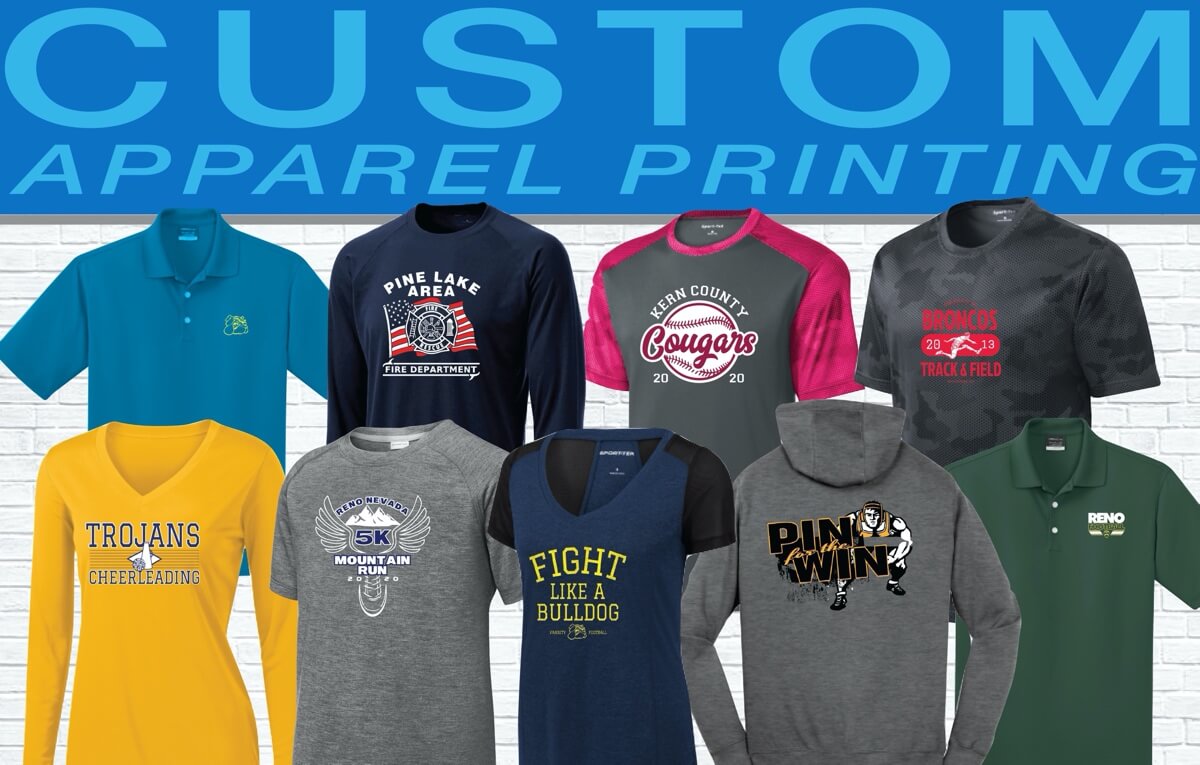 CUSTOM IS OUR MIDDLE NAME
Southern Style Graphics & Tees is a nationally operating custom screen printing company that works with individuals, small businesses and local organizations to large scale global enterprise clients.
We understand that people from all walks of life love wearing and showing off their personalized t-shirts, company caps, tote bags, and promo products. So maybe you are looking for screen printed tee shirts with your business logo, full-color photographic t-shirt prints with your family on them, or a sublimated or vinyl cut moisture-wicking shirt for your crew so you can promote yourself right away?
Do you have an upcoming family reunion, company picnic, or tribute you want custom shirts and embroidered hats for? Are you handling the marketing for a large company or have a new product launch campaign about to kick-off? Maybe you handle procurement for a local school or university and have a big rival football game coming up. A stylish t-shirt with your company branding on it or a memorable keepsake from the game is a great way to cherish the moment.
You might own a local small business and you want to create custom work t-shirts and hats with your logo on them for your service personnel, installers, and delivery drivers. Shirts are one of the best ways to help create a brand-buzz when your crews are out in the field or calling on customers.
That upcoming festival is always a nice way to sell t-shirts, tote bags, or hats too! Or maybe you're a local recording artist with some events kicking off in a few weeks, and you're looking to stockpile promo tees and merch to offer to your fans and help expose everyone to your music.
No matter the project size, we can handle it on time, every time!
High Quality – Multi Color 
We offer blind label direct to consumer product fulfillment services of screen-printed T-shirts and apparel. We can accomodate custom packaging, labeling and blind shipping of literally thousands of items per shift. We offer high quality shirt printing by using advanced dtg printers and printing methods
Screen printing accommodates large orders of hundreds to tens of thousands of garments that need to be printed with a variety of inks and finishes professionally and quickly. We use automatic 12 color presses that are capable of producing thousands of garments per hour.
Full Color – No Extra Cost
A process of printing on fabric using specialized ink jet printers. The garment is held in a fixed position and specialty DTG inks are applied to the garment by the print head and are then absorbed by the garment's fibers for a bright, colorful, long wearing garment.
Direct to garment printing is best for short run full color delivery of custom apparel. Great for test marketing and prototypes or any short runs. We have partnered with Epson who is a leader in the direct to garment printing industry and we only use the highest quality direct to garment Inc to ensure the brightest longest wearing direct-to-garment print available today.
Print Now. Press Later
Direct to Film or DTF provides simplicity, convenience, and consistency in performance with a wide range of colors. Printing to film allows you to carry stock of a design you may want to use but haven't determined the garment yet. You can print, store, and press it onto the shirt once you have a garment ready. It looks great and offers a bright and long-lasting image that will wear for a long time.
Cost Effective & Eye-Catching
Cut vinyl is a popular and affordable apparel decoration method that has some distinct advantages. We can create a multi-color design with metallic reflective vinyl materials that will definitely catch attention! Newer vinyl materials are so soft and flexible they practically feel like screen printing, yet they don't require the cost of creating screens or cost per ink color.
Get Your Name Out There
If you don't need to fully brand your vehicle and are looking for the simplest solution to get your company information on your vehicle, then die-cut lettering and design may be the best option for you. We can cut any color vinyl into just about any shape you can imagine. Want your full-color logo cut to shape? We can do that too! Whether you need something for the top or back of your windshield or simple lettering on the side of your doors or back of your bumper, we've got you covered.
Die-Cut Pricing
Die-Cut lettering and design is our least expensive most cost-effective advertising option for your vehicle. Single color vinyl cut to shape will make the message on your vehicle stand out and last for years to come.
SERVING LEE COUNTY SINCE 1999
For questions or a FREE quote please complete this form.